Certified Commercial Truck Repair and Vehicle
Experts For Any Issue
From inspection to total repair, you'll never have to worry if we're taking the necessary steps to restore your heavy-duty vehicle. For over 5 years, we've grown into a reliable commercial truck repair option for drivers across Western Canada. Come to us for snap-on diagnostics systems for engines, ABS brakes, and AC maintenance–no matter your truck's make or model.
Find Affordable Commercial Truck Repair and Maintenance Services Near You
Bring your truck, tractor trailer, heavy-duty equipment, or any other components of your commercial fleet into us for responsive service. We're here to help you and your drivers stay safe on the road. Call for your free quote and learn more about maximizing your fleet's uptime.
Breakdowns don't have to keep you down. No matter your truck or trailer's make or model, we offer mobile mechanic breakdown services for your entire fleet. We can travel right to your location, completing fast and efficient roadside repairs for your commercial vehicle.
A Large and Affordable
Towing Network
Although Reliable Diesel Tech only specializes in diesel truck repairs and other commercial vehicle maintenance needs, our connected network includes 10+ different 24-hour towing, roadside assistance, and specialty transportation companies for your convenience. If we can't handle the job, someone we know can!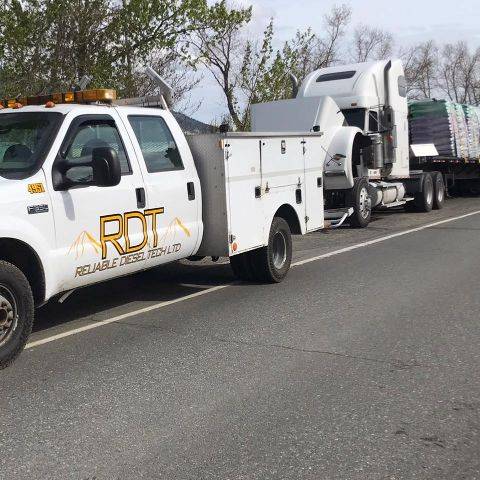 geoff ross-smith
2022-07-19
My dump truck wasnt able to make it up the big hill in Merritt, every company in Merritt wouldnt help me except these guys. And he dropped everything and helped me for free. Appreciate it alot
Dwight Tremblay
2022-06-03
Reliable was great !. My truck was stalling and breaking down on the middle of a big move to edmonton . They took me in right away and diagnosed it for me. Great shop . Thanks guys .
Stefan St. Godard
2022-04-07
Best service I've ever received at a shop. Kenneth & the team are fantastic
Dave / Nicole Carscadden
2021-10-25
I didn't know Ken until this weekend but I quickly realized that this guy is right up there with the best mechanics around. Pleasure having him around when your trucks down. Thanks Ken your help was so appreciated.